Les Délices de Candice propose depuis 2007 des bijoux confectionnés avec un grand soin, et beaucoup de détails.
Nos bijoux fantaisie sont un mélange de pièces vintage, allant des années 1920 à 1970, remis au goût du jour, accompagnés de pierres semi-précieuses, de cristaux Swarovski et d'éléments en laiton anciens ou actuels.
Nous sommes un couple de bijoutiers passionnés et notre marque Les Délices de Candice voit le jour en 2007.
Notre passion pour dénicher des trésors du passé, et leur donner une seconde vie correspond à notre lifestyle éco-vintage.
Les thèmes que nous proposons dans nos collections proviennent des inspirations puisées au travers des voyages et des découvertes liées au différents centres d'intérêts qui nous touchent.
(arts des anciennes civilisations, art moderne, architecture, voyages, la diversité de la nature, du monde végétal et animal).
Nos bijoux sont fabriqués essentiellement en laiton brut, ce qui permet de les conserver intact sur plusieurs années.
Le laiton est un alliage qui peut facilement être entretenu, il peut être ravivé par friction avec une chamoisine en coton imprégné, ou autres recettes de grands-mères (nous consulter).
Depuis 2018, nous sommes heureux de vous retrouver dans notre boutique « unique », au n°17 de la rue de la Préfecture à Nice.
En effet nos bijoux ont trouvé place dans ce que nous trouvons être leur plus bel écrin, à savoir la plus ancienne boutique de Nice dont la seule activité a été depuis 1850, la confection et la vente de parapluie !
Si vous visitez Nice et les alpes maritimes, venez nous rencontrer dans la vieille ville, nous seront heureux de vous accueillir et vous présenter notre travail.
A bientôt !
Les Délices de Candice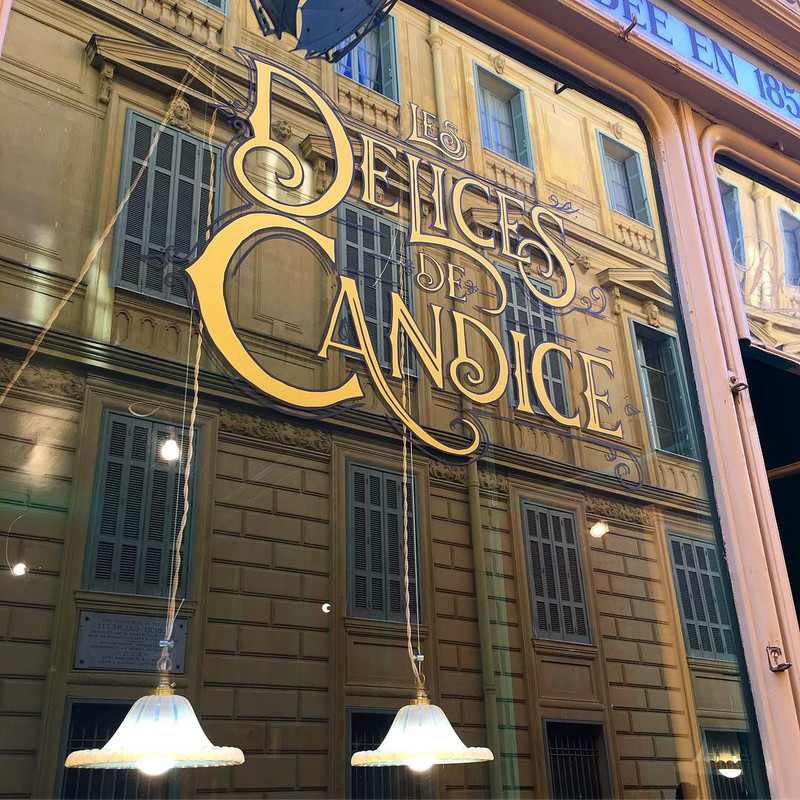 Les délices de Candice offers since 2007 jewelry made with great care, and lots of details.
Our jewelry is a mixture of vintage pieces, from the 1920s to the 1970s, brought up to date, accompanied by semi-precious stones, Swarovski crystals and brass elements, old or new.
We are a couple of passionate jewelers and our brand Les Délices de Candice was born in 2007.
Our passion for finding treasures from the past and giving them a second life corresponds to our éco-vintage lifestyle.
The themes that we offer in our collections come from inspirations drawn through travel and discoveries related to the various centers of interest that affect us.
(arts ancient civilizations, modern art, architecture, travel, the diversity of nature, the plant and animal world)
Our jewelry is mainly made of raw brass, which allows it to be kept intact for several years.
Brass is an alloy which can be easily maintained, it can be revived by friction with a cotton chamois impregnated, or other recipes of grandmothers (consult us).
Since 2018, we are happy to find you in our "unique" shop, at number 17, rue de la Préfecture in Nice.
Indeed our jewelry has found a place in what we find to be their most beautiful setting, namely the oldest boutique in Nice whose only activity has been since 1850, the making and sale of umbrellas !
If you are visiting Nice and the French Riviera, come and meet us in the old town, we will be happy to welcome you and present our work to you.
See you soon !
Les Délices de Candice